Musings on Monarchs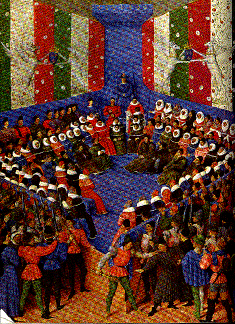 This Fifteenth Century miniature by Jean Fouquet shows
King Charles VII ("the Well-Served"} of France
presiding at a lit de justice, at which the duc d'Alençon
was tried for conspiring with the English.
The original is part of Des Cas des Nobles Hommes et Femmes,
Boccaccio, Cod. Gall. 6, fol. 2v.
_______
MUSINGS
To think of royalty is to think of coronations; yet nowadays except in Great Britain, there no longer are coronations for new monarchs, but just formal oath-taking inaugurations in which the new monarch swears to uphold his country's constitution and laws. In this century, only four kings on the continent of Europe (Peter I of Serbia in 1904, Haakon VII of Norway in 1906, Karl IV of Hungary in 1916, and Ferdinand I of Romania in 1922) had coronations following their accessions. In all the other European kingdoms, i.e., in Sweden, Denmark, Portugal, Spain, Italy, Bulgaria, Greece, Albania, Montenegro, Yugoslavia, Prussia, Saxony, Bavaria, Württemberg, Belgium, and The Netherlands, every new monarch in this century had just a swearing-in ceremony. In some cases, e.g., Spain and Bulgaria, coronations had been abandoned centuries ago. In some others, e.g., Belgium and Greece, they never existed. In most cases, though, the decision not to have a coronation was made only in this century and was taken by the governments involved in order to make their monarchies appear more modern.
The first 20th Century coronation occurred on September 19, 1904, when newly installed King Peter I Karageorgevic of Serbia was crowned (alone, because by then he was a widower) in a Serbian Orthodox ceremony at the Cathedral of the Host of Holy Archangels in Belgrade. Photograph. He was later, on October 7, 1904, annointed at the Church of the Holy Redeemer in the historic Zhicha Monastery. His two successors, King Alexander I and KIng Peter II, however, were neither crowned nor annointed.
The second coronation of this century occurred on June 22, 1906, when newly elected King Haakon VII of Norway and his wife Queen Maud were crowned in a Lutheran ceremony at the Nidaros Cathedral of St. Olav in Trøndheim. Photograph. Haakon VII's two successors, King Olav V and King Harald V, however, had only swearing-in and, later, consecration ceremonies. Comment.
The third coronation was on December 20, 1916, when Emperor Karl I of Austria and his wife Empress Zita were crowned as King Karl IV and Queen Zita of Hungary in a Roman Catholic ceremony at the Matthias Cathedral of Our Lady in Budapest. Photograph. Karl was deposed in 1918 and was the last Emperor of Austria and King of Hungary.
The fourth and last coronation to occur in this century was that of King Ferdinand I of Romania and his wife Queen Marie in a non-denominational ceremony on October 15, 1922, in the public square in front of the newly-built Coronation Cathedral of the Reunification in Alba Iulia, a major city in the new Romanian province of Transylvania. Photograph. King Ferdinand's two successors, King Carol II and King Mihai I, however, just had swearing-in ceremonies.
To think of royalty is also to think of dynasty, and that - by definition - involves families, including marriages and wedding ceremonies. In this century there have been many spectacular (and some not so spectacular) weddings of reigning monarchs and of their children. There have, of course, also been many weddings within the dispossessed royal houses of Europe. Listed here are this century's royal weddings.
Every reign has a beginning. I am collecting photographs of the swearings-in of all those European monarchs who were not crowned. Listed here are these royal accessions..
James VI, King of Scots, in 1603 became King James I of England, the first of the Stuart Dynasty. He was the son and successor of Mary Stewart, Queen of Scots, by her second husband Henry Stuart, Duke of Albany (Lord Darnley). Mary and Henry were each others' very distant cousins, both being direct descendants, in the male line, of Alexander, the fourth High Steward of Scotland, the source of each of their surnames. See especially the excellent web site Early Kings of Scotland.
The last King of Romania, Mihai I, was forced to abdicate by the Soviet Union on December 30, 1947, and to leave the country the following week. He now lives in Switzerland. An interesting question is who can or will be his successor. Because the Kingdom of Romania is under Salic Law, only a male member, in the male line, of the Hohenzollern-Sigmaringen Dynasty may succeed to the Throne. King Mihai and his wife Queen Anne, however, have only daughters. Since only a Romanian Parliament can change the law of succession, the pressing question for all Romanian monarchists is who, then, is the heir presumptive to the Throne? The only living males in the entire Romanian Hohenzollern-Sigmaringen Family, other than King Mihai himself, are the two sons of Carol Mircea, the barely acknowledged older half-brother of King Mihai by his father King Carol II's secret, and scandalous, first marriage during World War I on September 14, 1918, in Odessa, Russia, to the teenage Joana Marie Valentine (Zizi) Lambrino, a daughter of a then prominent Greek-Romanian family. The elder of Carol Mircea's two sons, who calls himself Prince Paul of Romania, may become a claimant. If it stands that neither a daughter of King Mihai nor a son of Carol Mircea can succeed, will the succession simply lapse? Or will the succession go to the nearest male member of the collateral German Hohenzollern family? Comments Received.
Why is it that in France, in 1824, during the Restoration that followed the Revolution, the Republic and the Napoleonic Empire, Prince Charles-Philippe de Bourbon, known as le comte d'Artois, upon succeeding his brother Louis XVIII as King of France, took for his regnal name "Charles X" and not "Charles XI"? After all, France already had had, several centuries before, a King Charles X. In 1589, when King Henri III ("the King of Sodom"), the last Valois King of France, was assassinated, the nearest heirs to the throne were a distant collateral branch of the Captiens known as the Bourbons. This was because the Kingdom of France has always been under the Salic Law, meaning that the heir must be the closest male relative in the male line. In 1589, under Salic Law, the heir to King Henri III should have been his distant cousin, King Henri III of Navarre. This Henri de Navarre, however, was a Protestant and Pope Sixtus V had, a few years before,proclaimed that Henri de Navarre (and every other non-Catholic) was ineligible to be King of France. Therefore, when the last Valois King died, most of Catholic France rejected the Protestant cousin's claim to the Throne and instead proclaimed as "King Charles X" of France the next person in line, Charles Cardinal de Bourbon, an elderly and childless, but clearly Roman Catholic, uncle of the Protestant King Henri III of Navarre. This Cardinal was a younger brother of Henri of Navarre's deceased father, Antoine de Bourbon, King Consort of Navarre, and therefore the next male, after that Antoine's only son, in the line of succession for the French Throne. The Cardinal King, however, lived only a few more months, dying in 1590. Ultimately, of course, King Henri III of Navarre did gain the French Throne, becoming King Henri IV and the country's most popular monarch in history. But that was only in 1593, after he abjured Protestantism and returned to the Catholicism of his birth. Tho questions remain, then, who was King of France between 1590 and 1593 and why did the comte a'Artois, two centuries later, choose to ignore the short reign of the Cardinal de Bourbon and call himself Charles X, rather than Charles XI. Comments Received.
What ever happened to the so-called "Legitimist" royal lines of Great Britain, France, Spain and Portugal? In each country a child, a sibling, or a cousin of the reigning King succeeded to the Throne against then existing dynastic laws of the country. In Great Britain, at "the Glorious Revolution of 1688," the King James II's daughter Mary and her husband Prince Willem of The Netherlands sent him and his newborn son into exile and reigned in his stead. In France, with "the Revolution of 1830" the King Charles X's cousin Louis Philippe d'Orleans sent him and his heir presumptive grandson into exile and became in his stead the first "King of the French.". In Spain and Portugal in the mid-Nineteenth Century, daughters of King Ferdinand VII of Spain and of King Pedro IV of Portugal succeeded their fathers as Queens Regnant Isabel II and Maria II, but were opposed in civil wars led by their fathers' brothers, Prince Carlos of Spain and Prince Miguel of Portugal, the rightful heirs according to upholders of the Salic Law and the Foreigners Exclusion Law, respectively. In all four countries the "Legitimist" pretenders continued (and still continue) to claim the Thrones as rightfully being theirs. In the first three cases, however, the actual "Legitimist" lines ultimately died out, thereby confronting their partisans with the prospect of having the "usurper" lines being legitimatist after all. In Portugal, however, it was the "usurper" line that died out, forcing its partisans into choosing to make peace with the "Legitimists." In Great Britain, France and Spain, moreover, even after the legitimate lines had died out, many of the "Legitimists" refused to accept the "usurper" lines, even though those "usurper" lines. Instead, these "legitimists" splintered into several factions supporting various so-called "Legitimist" candidates in claiming their countries' Thrones.
[UNDER CONSTRUCTION]
(Send in topics of interest)
Click here to Send me a Message.
Return to Royalty Page.
Return to TJB Home Page.