THE CORONATION OF KING KARL IV AND QUEEN ZITA OF HUNGARY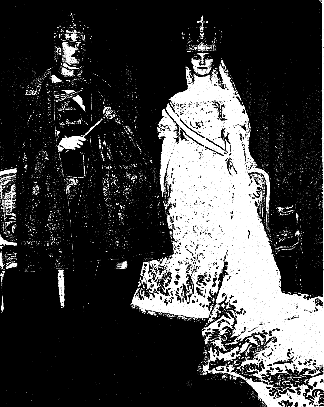 King Karl IV and Queen Zita of Hungary
After their Coronations on December 20, 1916, in Budapest.
The second coronation in Europe this century was on December 20, 1916, when Emperor Karl I of Austria and his wife Empress Zita were crowned as King Karl IV and Queen Zita of Hungary in a Roman Catholic ceremony at the Matthias Cathedral of Our Lady in Budapest. Karl was the last King of Hungary (as well as of Bohemia, Galicia, Dalmatia and Jerusalem). He was also the last King of Croatia, unless you count the Italian-sponsored reign, during World War II, of Duke Aimone of Aosta as "King Tomislav II" of Croatia. The Duke of Aosta, however, never set foot in his "Kingdom," thereby avoiding a war crimes trial, and probably saving his life, after the Fascists lost World War II.
Return to Royalty Page.
Return to TJB Home Page.