THE CORONATION OF KING FERDINAND I AND QUEEN MARIE OF ROMANIA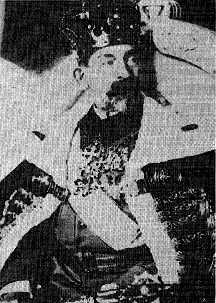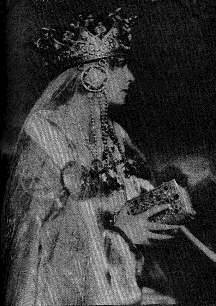 King Ferdinand I and Queen Marie of Romania
after their Coronations on October 15, 1922, in Alba Iulia.
The last coronation in Europe in this century was that of King Ferdinand I of Romania and his wife Queen Marie in a non-denominational ceremony on October 15, 1922, in the main public square in front of the newly built Coronation Cathedral of the Reunification in Alba Iulia, a major city in the new Romanian province of Transylvania. (The ceremony was non-denominational because, although Romania was overwhelmingly Orthodox, the King was a devout Catholic and his wife was then an Anglican.) King Ferdinand's two successors, King Carol II and King Mihai I, however, had only swearing-in ceremonies. (King Carol II, upon ascending the Throne in the summer of 1930, did schedule a coronation in Alba Iulia for the following September; but, a few weeks before the planned ceremony, the coronation was postponed (never to be re-scheduled, because of the complicated situation with Carol's ex-wife, Queen Helen, who due to their divorce obviously could not be crowned with him, but was nonetheless functioning in Romania as "Queen Mother Helen.")
Return to Royalty Page.
Return to TJB Home Page.