Welcome to the home page of Terrence J. Boyle,
of Washington, D.C.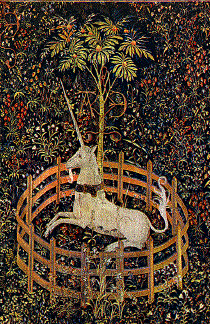 This late Fifteenth Century tapestry depicts the resurrected unicorn in captivity
and is the last in a series of seven known as "La Chasse a la Licorne" ("The Hunt of the Unicorn")
that were posibly made for the marriage of Anne of Brittany to King Louis XII of France in 1499,
were certainly among the possessions of the ducs de La Rochefoucauld in the Seventeenth Century,
and are now at The Cloisters Museum in New York City.
.
My various interests are listed above, with each topic given some pages on this site.
Please tell me what you think of them.
Your visit is the [an error occurred while processing this directive] since January 1, 2001.
.Click here to Sign the Guest Book and/or Send a Message.
Please let me know that you have visited this Site.
I would appreciate any suggestions on how it might be improved.
This site was last updated on September 1, 2008.
______________
_________
Terrence J. Boyle
P.O. Box 25401
Washington, DC 20007
Tel.: (202) FEderal 7-7116
_________
The information on these web pages is the property of Terrence J. Boyle.
All rights reserved.