GOOD BOOKS
"28 Thomas answered, and said to him: My Lord, and my God.
29 Jesus saith to him: Because thou hast seen me, Thomas,
thou hast believed:
Blessed are they that have not seen,
and have believed."
John xx: 28-29.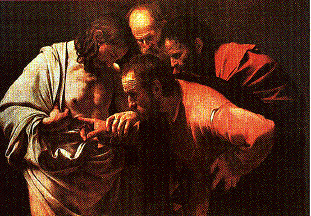 Reproduced above is the painting "Doubting Thomas"
by Michelangelo Morigi (called "Caravaggio," after his birthplace near Milan)
showing the Apostle Thomas at his first meeting with the Risen Christ
being asked to place his hand in the wound in Jesus's side.
The original is now at the Staatliche Schlösser und Gärten of the Palais San Souci in Potsdam, Germany.
Click here to see a much clearer version.
SOME REALLY GREAT READING
Listed below are the books that I am now reading or have just finished reading. I highly recommend all of them. If you click on the book's title below, you'll get the text of the description of the book found on its dust jacket, along with a trenchant review.
.
.
.
.
.
.
.
.
Click here to Send me a Message.
Return to Catholicism Page.
Return to TJB Home Page.