William Jefferson Clinton
Suffers His First Electoral Defeat.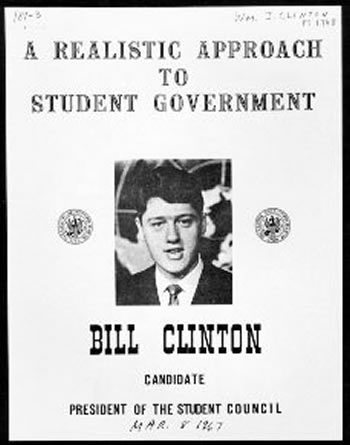 Recommended Reading:
David Maraniss. First in His Class: A Biography of Bill Clinton. New York: Simon & Schuster, 1995.
[An excellent, albeit adulatory, account of Clinton's life before his election as President of the United States.

This is the only history / biography so far to look closely at the student years of Bill Clinton.

The chapters concerning Clinton's Georgetown years need a lot more detail

if one is to understand what really happened.

Maraniss lacks understanding of the issues that pre-occupied G.U. students in the mid and late 1960s

and, especially, the depth of resentment that in 1967 most of Clinton's classmates felt against the plans

by G.U.'s then Jesuit Administrators to put an end to the four autonomous undergraduate professional schools.

Clinton was particularly controversial because,

during the school year that lead up to the student council election he lost,

he served as the chairman of a so-called "unification committee."

He was widely regarded within the SFS student body

as then being a collaborator with the G.U. Administration,

advancing himself personally (to a Rhodes Fellowship)

in exchange for helping his own school's most determined enemies.]
Clinton himself alluded to this in an interview
that he gave in 1988 to an excellent, but short-lived, independent magazine
"Georgetown's Blue & Gray."
"Was there really an East Campus / Main Campus rift back then?

Did you ever try to unify it?"

"Yeah, I got vetoed when I tried to do it [unify the campus].

I was sort of the leader of the East Campus deal.

I think a lot of the College people had the notion

that they were sort of "the real Georgetown."

Well, there was something to that.

I mean, there was some merit to that;

they'd existed from 1789 until the School of Foreign Service was founded in 1928 [sic],

and then the others were founded some time after that.

At that time, keep in mind, we were all physically separate;

the Nursing School was way over near the hospital

and the Business School, the Institute of Languages,

and the School of Foreign Service were all in the Law School.

None of them were [sic] up on the main campus;

we all had our classes up there.

I'm not even sure we had any of the same classes,

except for the non-Catholics taking alternatives to theology."

"Coming back to campus today,

do you sense that that rift has changed at all?"

"The school seems more integrated.

It seems more like a big university

with a lot of different schools that are part of a whole.

I think having the School of Foreign Service physically up there on the campus makes a big difference."

[Taken from "A Philosophy of Life, Politics, & Hurdles:

An Interview with Arkansas Governor Bill Clinton"

by Dan Carpenter and Mark Johnson,

Georgetown's Blue & Gray, Vol. 2, Issue 1, 1988, pp. 24-25].
.
There are some factual errors in Clinton's remarks
- the Foreign Service School was founded in late 1919, not in 1928,
and has been located on, or next to, the Georgetown campus ever since 1932.
But Clinton was right in alluding to the tensions
that in his day existed between the College and the Foreign Service School
and in stating that he was a leader of those trying to "unify" the schools.
I plan in these pages to describe
how his defeat in the race for East Campus Student Council president
was, in great part, caused bystudent resistance to his unification efforts.
Return to TJB Home Page.