CATHOLIC THEOLOGY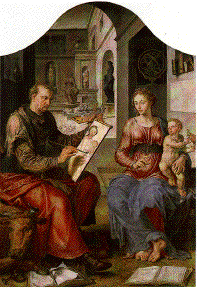 Reproduced above is the altarpiece "St. Luke Painting the Virgin,"
ca. 1545-50 by Maerteen van Heemskerck.
The original is now at the Musée des Beaux Arts in Rennes, France.
The painting shows Mary,
The Perfect Daughter of Israel and the Mother of the Church,
with her son, our Savior, as an infant
and with Luke the Evangelist, the only non-Jewish author of the Bible,
in Rennaisance clothing and surroundings,
thereby illustrating the timelessness of the Church
as well as its universality.
Bible Sites:
Liturgy Sites:
Marian Apparitions:
Roman Catholic Academic Organizations:
Gender Issues and Roman Catholicism:
Social Justice Issues:
Modernism:
Ecumenism:
Lay Roman Catholic Advocacy Organizations:
Lay Roman Catholic Advocacy People:
Click here to Send me a Message or Suggest a New Link.
Return to Catholicism Page.
Return to TJB Home Page.