WILLIAM CARROLL QUIGLEY
November 9, 1910 - January 3, 1977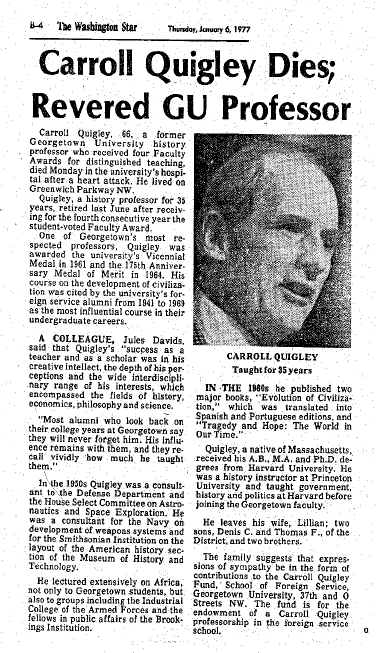 The January 6, 1977, obituary of Carroll Quigley
published in The Washington Star,
for which years he wrote for many fascinating book reviews.
N.B., with the invaluable assistance of Matt Logan, I have recently set up a web site
dedicated exclusively to Carroll Quigley
and on which will be posted all his published works,
especially his many hard-to-find articles and book reviews,
as well as many unpublished manuscripts.
The site is now up and running
and every day more writings by Quigley get added.

_______
Carroll Quigley died in early January 1977. A few weeks later his long-time research assistant and personal friend, Miss Helen E. Veit, telephoned me to ask if I would be her lawyer for the probate of Quigley's last will and testament, which had left to her all rights to his books, papers and research materials, but which Quigley's widow intended to contest.
Happily, a compromise between Lillian Quigley and Helen Veit was reached and a will contest avoided. Carroll Quigley's wishes were all honored.
I hope that someday Carroll Quigley will have an appropriate web site on the internet. I have a huge collection of his writings, as well as many tape recordings of his lectures. It amazes me, over thirty years after his death, how relevant many of Quigley's lectures and writings remain.
In 1961 a student interviewed Quigley at length and published an article on his life, The Improbable Carroll Quigley.
Carroll Quigley was not only a natural-born "great" teacher; he was also a serious student of what is needed to be(come) a "great" teacher.
Several of his essays on education have lasting value: for example "Is Georgetown University Committing 'Suicide'?"
Some of his best writing was about the founders of GU's School of Foreign Service: including the thoughtful "Father Walsh as I Knew Him" and the surprising "Constantine McGuire: Man of Mystery".
Unfortunately, many people interested in Carroll Quigley take entirely out of context the references he made in his book Tragedy and Hope: A History of the World in Our Time about a high-level Anglophile conspiracy that, he said, flourished before World War II. It seems that many people believe Quigley thought this vast conspiracy somehow continues to operate right up to our own day.
But as Dr. Quigley once told me, the reality is much scarier. Instead of a secret cabal now being in charge, there's no one in charge.
Click here to Send me a Message.
Return to Georgetown University Page.
Return to Catholicism Page.
Return to TJB Home Page.