Verses From Sacred Scripture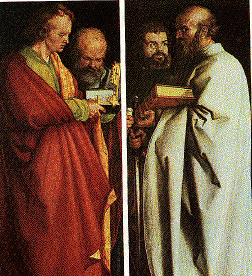 "The Four Holy Men"
(at left, St. Peter standing behind St. John;
at right, St. Mark standing behind St. Paul)
Reproduced above is the last oil painting done by Albrecht Dürer,
completed in October 1526, only twenty months before his death in April 1528,
and a gift to the then Protestant-dominated Nürnberg city council.
It portrays the four New Testament writers as each embodying one of the four humours,
St. John as sanguine, St. Peter as choleric, St. Mark as phlegmatic, and St. Paul as melancholic.
(It is now at the Alte Pinakothek in Munich, Germany)
Click here to see a much clearer version.
Historians have argued ever since Dürer's death whether by the end of his life
Germany's greatest artist had once again become a Roman Catholic.
They usually seek in this painting clues for resolving the matter.
St. Peter is clearly shown holding his Christ-given keys;
but then St. John is shown holding an open Bible
in which are clearly seen the first words to his Gospel
set out in the German translation of Martin Luther;
and St. Paul, rival to St. Peter and hero to Luther, is clearly shown as dominating
and the only one of the four with an eye on us viewers.
The question remains, did Dürer, after initially rallying to Luther,
return to the Roman Catholic Church?
He was a close friend of both Philip Melancthon and Desiderius Erasmus,
the Lutheran and the Catholic who were most eager to prevent an irreparable break,
and his own closest friend, Willibald Pirkheimer,
most definitely did return to Catholicism by the time of Dürer's death.
Inasmuch as both the Protestants and the Catholics claim him,
I find this painting by Dürer of the four New Testament writers
of the Scriptures that simultaneously unite and divide
all Catholics and Protestants
to be the most fitting way to open a section on my favorite Bible verses.
.
[UNDER CONSTRUCTION]
Click here to Send me a Message.
Return to Catholicism Page.
Return to TJB Home Page.